There is a strong need for good, professional secretaries all over the world. Companies in all industries you can think of are always on the look-out for competent, hard-working secretaries to take care of their different administrative tasks.
We Offer The Following Range Of Secretarial Courses:
Medical Receptionist Courses
If you want to be in the medical field, but you are not ready to become a Doctor, study our Medical Receptionist courses to get a feeling of this industry. You will work for Doctors. The medical receptionist greets patients, visitors, answer calls, schedule appointments, and handle bills. You need excellent organisational skills to be in this field and, with our courses, you will surely gain them.
Professional Secretary Courses
Ever dreamed about being the point of communication between a client and your fellow employees? These courses will teach you good organisation, communication, and time management skills.
Personal Assistant Courses
Personal assistants are secretaries for one specific person. They perform the same tasks as a professional secretary, but only for one person, like the manager. Personal assistants, however, need to have active listening skills, be very organised and good at multitasking. You can gain all of these qualities studying one of these courses.
Receptionist Courses
Receptionists are usually the first point of contact for a company. They perform administrative tasks for employees and clients. They have excellent multitasking, organisational, and communication skills. With our Receptionist courses, you'll learn these skills extensively.
What Exactly Does a Secretary do?
Secretaries are essential to any company. They assist all other staff in the company in many ways. They are usually the first face customers or visitors to your company will see. Secretaries require certain skills, some of these skills include:
typing out documents, letters, meeting agendas, and emails
filing documents, invoices
answering telephone calls
organising meetings.
Ok, so What Exactly do I Learn in a Secretarial Course?
Secretarial Studies relate to the administration or clerical duties performed by secretaries. Secretaries answer telephone calls, schedule appointments for employees and clients, assist with information, and so forth.  Secretarial courses equip you with many administrative skills needed in any workplace. And with these skills, you can someday apply them in your own company. Secretarial skills will never be a waste of time and will continue to serve you throughout your career.
What do Secretaries Earn and What Kind of Jobs Could I be Looking at?
At the time of writing this, according to PayScale, on average the yearly salary for a Secretary is about R118 000.
There are also many other jobs that you can explore such as: 
Personal Assistant
Office Administrator
Legal Secretary and
Executive Assistant
I'm too Busy to go to Classes. Can I Study Secretarial Courses Through Distance Learning?
There are many companies that offer Secretarial training through distance learning. Skills Academy offers Management Assistant and Legal Secretary courses. Skills Academy has several short courses related to Secretarial skills. There are a lot of other companies and colleges that offer a variety of short and long courses.
What Kinds of Courses are Available?
There are both full-time and part-time courses that you can study as well as online courses and distance learning courses. Different providers each have different requirements for their courses so doing some research is needed to find exactly the right course for your needs.
Where can I go to Study?
There are many companies that offer both accredited and non-accredited courses that you can do. With distance learning, you will be able to study no matter where you are in South Africa . Some courses are short courses but there are year-long courses for recognised diplomas that you can also do using distance learning.
You Talk About Accredited and Non-accredited Programmes. What's the Difference and is one Better Than the Other one?
An accredited programme is one that gives you a recognised qualification. A non-accredited one does not. That doesn't mean one is better than the other. An accredited programme might give you a little bit better chance to find a job or get paid more, but a non-accredited one is not without value. Non-accredited courses might not give you a recognised qualification, but they still show employers that you are serious about your own development. They are also cheaper to do than accredited courses, and they normally don't require you to have a matric certificate. It is up to you to decide if you want to do an accredited or non-accredited course, but both of them are a step in the right direction.
What is the Difference Between Secretarial Studies and Office Administration?
Administrative assistants typically provide more advanced and specialised services, while a secretary is a person whose job is strictly clerical. Secretaries have to do jobs like typing and copying dictations, attending telephone calls and fixing appointments. An administrative assistant will also do this but may also be trusted with the responsibility of long-term projects that are of interest to the boss.
Reasons to Study Secretarial Courses
There are many reasons why it might be a good idea to study secretarial courses.
The different secretarial courses will equip you with different skills and knowledge.
These courses can enhance your CV.
You can use your skills gained in secretarial studies and apply it to many different secretarial fields.
Would you Like to Study one of our Secretarial Courses?
Get a head start in your career and start your qualification today.
Fill in the form on this page and we will get back to you shortly.
Call us toll-free: 0800 39 00 27
Have a quick with us on Whatsapp: 082 318 8892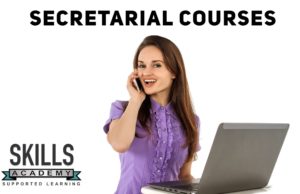 Last Updated: July 2, 2019