Interior Decorating combines the creative process of addressing the aesthetics of a space with understanding of the building itself. Start studying right away!
Interior Decorating is an exciting career to be in.This Interior Decorating Certificate Course will give you the tools to unleash your inner creative.
This following course provides a solid foundation for anyone who would like to pursue a career in the Interior Decorating industry. Sign up with us today!
What do Interior Decorators do?
Interior Decorators are creative individuals who are responsible for jazzing up spaces to help give them their own identity. Interior Decorators aren't just limited to decorating homes. They can find themselves decorating spaces such as retail stores, restaurants and even movie sets. Interior decorators often work closely with their clients to help create their vision. These decorating professionals also work with furniture makers, upholsterers, and other design and decor specialists. 
How do you Become an Interior Decorator?
Want to create beautiful, functioning living spaces but not sure how to get your foot in the door? Use the following as a guideline to help kick-start your career. 
Get an Education 
If you know nothing about the career and would like to learn more, the best thing to do is to enrol for our courses. Our Interior Decorating Courses will equip you with great decor knowledge. You will learn how to set up floor plans, art and decor elements, and more. 
Gain Experience
After you gain a wealth of knowledge during your studies, and now is the time to put what you've learnt into practice. You can gain experience by decorating your own home or approaching family or friends. Interior Decorators may also gain experience by approaching architectural firms or guesthouse owners who need decorators to help them with projects. 
Build Your Portfolio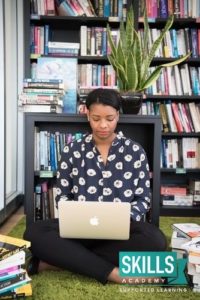 The best way to demonstrate that you are a skilled Interior Decorator is to have a solid portfolio to boost your reputation. 
You can create one online or a physical one. 
Having an online portfolio could expose you to more clients. You can create a blog, website, or post your pictures to your social media. Take pictures of every project you finish to add to your portfolio. 
You can create a physical version of your portfolio to take with you when meeting clients or attending interviews. 
How Much Money Does an InteriorDecorator Make?
According to Payscale, the average Interior Decorator in South Africa makes approximately R240 000 per year. That means that they can expect to earn up to R20 000 per month.
Your monthly salary will depend on whether or not you work for an agency or if you're self-employed. If you're employed by a company, you can earn more by taking on freelance projects. 
5 Skills Every Interior Decorator Needs
You are probably wondering if you have what it takes to be an interior decorator. There are several skills you need to handle the duties that come with this job. Here's 5 important skills you need to do your job successfully. 
1. Communication
As an Interior Decorator, you will have to meet with clients to discuss their ideas and vision. It's important that you therefore have excellent communication skills so that nothing gets misinterpreted. In addition, you will also have to meet with contractors and suppliers. Practice your excellent communication skills and build steady working relationships with them. 
2. Creativity
Be on the forefront of current design trends and bring your mood boards to life with your artistic eye. In this industry, your creativity is what sets you apart from the others. You will meet clients with different tastes and styles. It's important that you can cater to all. Put your own unique spin on their brief. 
3. Flexibility
No two days are alike in this industry. You will sometimes have to go above and beyond for your clients. That means there will be days where you have to extend your hours from the normal 9-5 and even work on weekends. You will need to have flexible work hours to meet everyone's needs.
4. Knowledge of Design Principles
Decorating is an art form that you will need to master to succeed in this industry. You can start by learning the basic design principles to help you. The best way for you to get this skill is to enrol for an Interior Decorating course. We offer ours via distance learning, enabling you to start working on your career while studying. 
5. Problem-Solving
Problems will arise a lot in this career and you can't always guarantee that things will run smoothly. These problems may include a client changing their mind, schedule conflicts or furniture getting sold out. Learn how to creatively solve problems and handle disputes in a professional manner.
What Qualification do you Need to Become an Interior Decorator?
For this role, you don't need a degree. You can enrol for an Interior Decorating course or complete a certificate programme. A course will equip you with all the knowledge you need regarding decorating. Why not consider studying through distance learning with us? This is one of the many courses you can study without a matric qualification. Our students also get to work on their language skills with an Introduction to English Course. 
Ready to Kick-Start Your Interior Decorating Career?
Speak to one of our friendly course experts to help you. 
Call us for free on 0800 39 00 27
Chat to us on Whatsapp at 082 318 8892
Or fill out a registration form for a callback
Author: Cherri-Lee Rhode
Last Updated: May 05, 2020