The ICB Secure Portal makes the learning experience easier for students. When you study with the ICB (Institute of Certified Bookkeepers) you will receive an online profile from them, which you are able to manage yourself.
ICB Students Are Able To Do The Following On Their Profiles:
Register with the ICB
Distance learning students can enroll for their exams
You are able to view your exam results online
Update your personal information and contact details
Request reprints of certificates
You can make payments to the ICB using a credit card
How Does The ICB Secure Portal Work?
If you are a new ICB student you need to register online to create an account. You are only able to register if you have the following details with you:
A USERNAME of your choice
A unique PASSWORD you are able to create for yourself
You will also need an EMAIL address.
Lastly, you need to have a SOUTH AFRICAN ID NUMBER with you
New learners must register and complete all personal details asked of them the ICB secure portal asks of them. If you have completed all these small details you can register to write exams. By doing this your Portfolio of Evidence (PoE) will become available to you as well as other assessments.
How Do I Access The ICB Secure Portal?
Go to www.secureicb.co.za/learner/. Once on the website, you must enter your details so you can access the portal. You will see an image similar to the one posted below.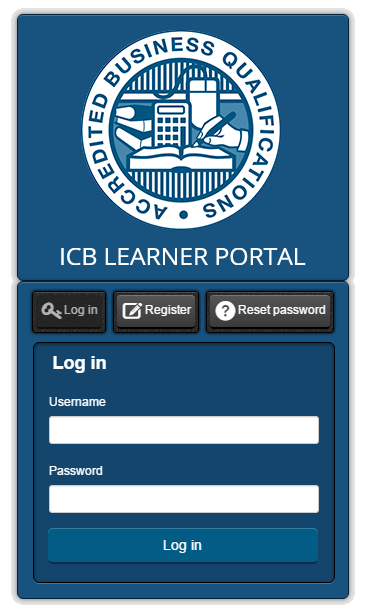 When you have registered your account with the ICB secure portal and signed into the learner portal, you will see the learner portal home screen.
From here on you are able to go to different sections.
Remember, as a new learner you must indicate which path of study you will be doing with the ICB.
The following infographic explains the process in more detail for you. On the image, you can see the process involved in registering on the online portal.
There is a detailed step-by-step guide to using the ICB Learner Portal on this page.
Why Study With The ICB?
The Institute of Certified Bookkeepers was established in 1931. Its aim is to improve the quality standards within the professions of bookkeeping, accounting, business management and office management just to name a few.
The ICB is a Quality Assurance Partner (QAP) for the Quality Council for Trades and Occupations (QCTO). FASSET is responsible for issuing students certificates and diplomas. The ICB is not a training provider, it is simply an examining body that offers several registered qualifications.
All of the ICB's qualifications are fully accredited on the National Qualifications Framework (NQF) by the South African Qualifications Authority (SAQA). ICB graduates also have the benefit of being recognized by various professional bodies.
If you need more assistance with using the ICB Student Portal and you are a registered Skills Academy student, call our friendly student consultants to help you on 021 838 8250.
Last Updated: 12 February 2018