We know that furthered learning can be financially difficult. Knowing how to get a bursary can be a helping tool to success. That's why there are bursaries and payment plans available to you. Allowing you to study without being distracted by tuition fees.
How Bursaries Work 
Bursaries allow you to further your education and study any course you would like. A bursary could cover half or all your study fees. It could also cover your transportations, housing, study material and living expenses. Doing some research will help you find out what your bursary provider covers . 
Types of Bursaries
It is easy to think that bursaries, student loans, financial aid, scholarship and grants are all the same. However, that is not the case.  They do have similarities but differ in terms of repayment, competitiveness and what it covers. 
Bursary Categories 
Bursaries aim to help you become a professional in the industry you would like to go into. You can find yourself a bursary provider by identifying your bursary category. Each category has different industries to explore. Bursary categories are indicated on all bursary application forms. If it is not stated you can simply search for it e.g bursaries for law.  
Who Benefits From Bursaries 
Your bursary won't only benefit you but your future employers and the industry you choose to work in. That's why many companies offer students bursaries. Applying for a bursary with a company instead of a bank can prove to be a great step to success. 
Student 
As a student you benefit from a bursary in three ways. You will have an opportunity to complete your studies without paying for it. You'll receive a qualification. It gives you better career opportunities. 
Employers
Employers also gain from bursaries in many ways. It guarantees them future qualified employees. Employees will need less supervision. It also ensures a stable workforce that is equipped with the knowledge required.   
Industry 
The industry benefits from bursaries with the increase of skilled professionals. It gives them a competitive edge in the global market. Bursaries also develop workers with world class values that contribute to each industry. 
How do I get a Bursary in South Africa?
With our help getting a bursary in South Africa doesn't have to be a long process. The internet can be a great asset in your search for a bursary. You can ask your provincial education department about any and all academic bursaries.
Application Process for a Bursary 
Acing your application for a bursary is important. Your application will be the first step to having a successful career. Remember to read the academic requirements and make notes of all important dates. 
Steps to Getting a Bursary
Apart from filling in application forms, there are a few other steps to keep in mind. These steps are in place to ensure that you are the best candidate for the bursary. 
Apply Early 
Don't procrastinate, apply as soon as you can. Gather all the needed documents and application forms. Fill them in and send them out as soon as possible. By submitting your application early, you avoid long queues and your application gets processed sooner. 
Work Hard 
Exceed expectations every step of the way. This means achieving higher grades than the minimum requirements. Sponsors aren't only looking for the most disadvantaged student but the most hardworking one too. 
Do Community Service 
You might need evidence of time when you have demonstrated determination, work ethic and initiative. Community service is a great way of giving back and looks good on all application forms.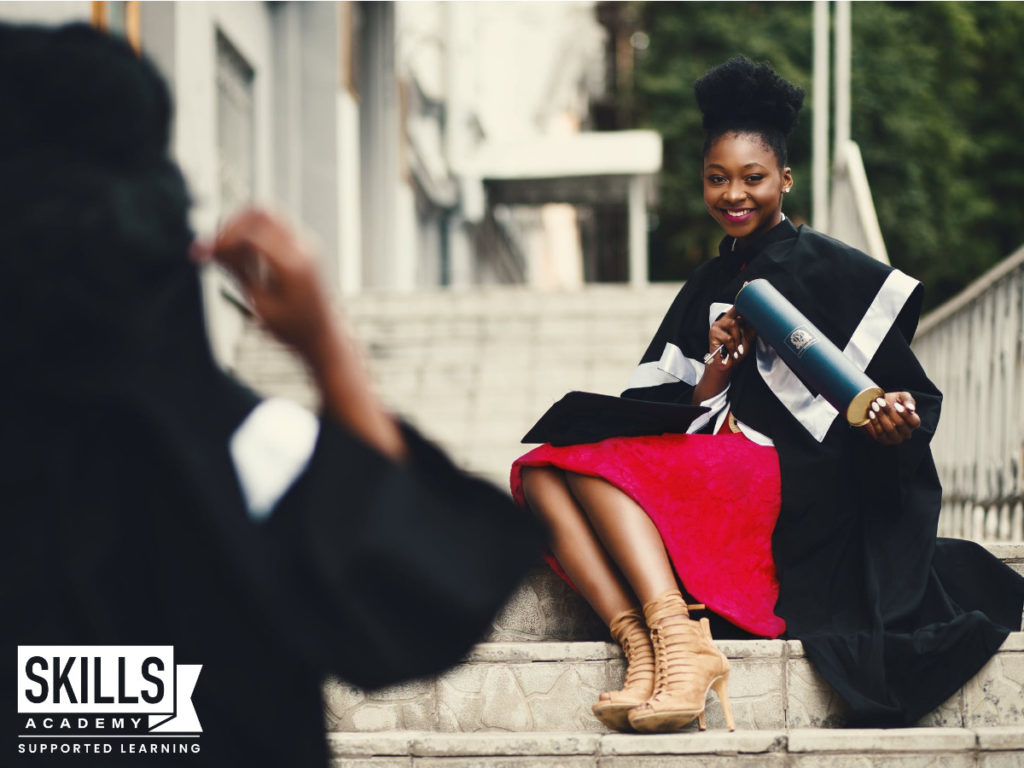 Tips for Writing a Bursary Application Letter
Most bursaries will need you to write a motivational letter. This letter along with your academic results will convince the bursary funder why you should receive their help. Give a brief rundown on who you are and where you come from. Speak about your academic and career goals. Your motivational letter leaves a lasting impression so give it your best. 
Writing Tips 
Have a Personal Tone 
Formal Content 
Be Brief and to the Point 
Be Polite and Professional 
Content Tips 
Describe Your Financial Needs 
Mention What Institution and Course you want to study 
Academic Achievement 
Career Goals 
Attached supporting documents 
Academic Requirements for a Bursary 
Each bursary is different and will have different academic requirements. Having outstanding grades is the only way to be safe. Instead of working towards the minimum academic requirements for a bursary, be consistent. Work hard from the start so you can apply for any bursary. 
Government Bursaries in South Africa
Within the South African government there are many different departments. To apply for government bursaries, you will have to meet a minimum criteria. Do note that each bursary also has its own set of requirements apart from the criteria. 
Minimum Criteria 
Be a South African citizen 
Currently in matric and achieved good grades thus far or completed matric with good grades
Studying or been accepted to study 
How to get a Bursary to Study Abroad 
Don't let tuition fees discourage you. With a bursary, you can still live your dream of studying.  Knowing how to get the process started is the hard part but we've got you covered.
Use your resources: You might not know this but you have resources all around you. All you have to do is ask. Start by contacting your local education department and universities.
Research: The internet is a great tool to use for all types of research. Use it to find bursaries that interest you. Try and gather as many application forms as possible. 
Contact Funder: It's always best to contact the funder directly. This way you will be able to know the nitty-gritty of your application form. It also gives you the opportunity to ask any questions you might have. 
Mark Dates: Keep track of different deadlines when you are applying for more than one bursary.  That's why marking it on your calendar can be helpful. This way you won't miss any opportunities.  
Tuition Benefits of Distance Learning 
Distance learning is a way for you to get an education without the added stress of tuition fees. We give you the opportunity to learn stress free. There are a variety of payment policies that you can take advantage of. 
Study Fast Policy 
All courses have an estimated duration period. You can choose to follow the duration period or study faster. By studying faster you pay less. Students benefit  from our study fast policy. 
No Credit Check 
When signing up for one of our programmes, you won't have to worry about having a clean credit history. That's right, we don't do any credit checks. So you don't have to let your financial history stop you from furthering your education. 
30 Day Cash Back Guaranteed
We have a 30 Day Money Back Guarantee policy. Once you have completed the registration process, you can start your 30 day study trial. In this time you can see if we are the institution for you. If not, you can claim a full refund. 
Expand Your Knowledge Without Financial Burdens 
Are you ready to dive into your studies without the worry of tuition fees? Speak to one of our expert course consultants today. Find out about our policies and courses with one call. 
Call us for free on 0800 39 00 27
Or fill out a contact form for a call back