Interior Decorating Courses
Interior Decorating combines the creative process of addressing the aesthetics of a space with understanding of the building itself. Start studying right away!
Interior Decorating is an exciting career to be in.This Interior Decorating Certificate Course will give you the tools to unleash your inner creative.
This following course provides a solid foundation for anyone who would like to pursue a career in the Interior Decorating industry. Sign up with us today!
Are you a creative person looking for a big break in Photography and Design? Don't look any further. Our Photography, Interior design and Decorating courses are your best bet. The best time to hone your skills is now. 
Why Study Photography and Design Courses?
People tend to think photography, interior design and decor isn't a complicated thing. Especially because you don't need to go to school and take courses for it. They're wrong. Photography and design, like most professions, has principles and theories that make your work standout. This in turn will earn you credibility and bring in more business your way. Also, taking up these courses will teach you different styles and types and photography, design and decor principles.
What Skills Will you Learn With Photography and Design Courses
With our Photography and Design Courses, you'll learn the basics of digital photography, textiles and design principles. You'll also learn how to give excellent, satisfactory customer service to your clients. These are important because how you treat your customers is what keeps them coming back. 
Our Photography and Design Courses
Our Photography and Design Courses can be completed within a few months. And they offer you credibility. They're what you go for if you want to be qualified and credible within a short period of time. We have 3 levels of short certificates for both photography,  interior design and decorating, namely:
Photography Courses
Photography Short Courses – This is the entry level course. It gives you basic understanding of digital photography.
Photography Certificate Course – This second level course goes a little deeper from what you would have learned in the entry level course.
Photography Comprehensive Course – This course polishes your knowledge of customer services well how to operate your digital camera for optimal results.
Interior Decorating Courses
 Interior Decorating Short Course – This course introduces you to the principles and elements of decorating. 
Interior Decorating certificate Course – On completion of this course you will have learned of textiles and architectural styles and movements. 
Interior Decorating Comprehensive Course –

This is your last course on your way to bringing life to people's homes. This course also introduces you to interior design.

 
Interior Design Courses
Interior Design Short Course – This entry level course is your first ticket to being an Interior designer. Within just 8 months, you'll be equipped with knowledge of basic design and drawing.
Interior Design Certificate Course – This is a second level course where design meets architecture. 
Interior Design Comprehensive Course – This gives you a comprehensive overview of the course and introduces you to new concepts like building constructions.
Google SketchUp Short Course – This is where you get to improve your technical drawings skills using 3D sketches.
Entry Requirements
There aren't specific entry requirements you need to enrol for photography and design courses with us. All you need is an understanding of the English language, both written and spoken. This is because our classes are conducted in English. No matric? No worries! We have an open access policy which means everyone can study with us.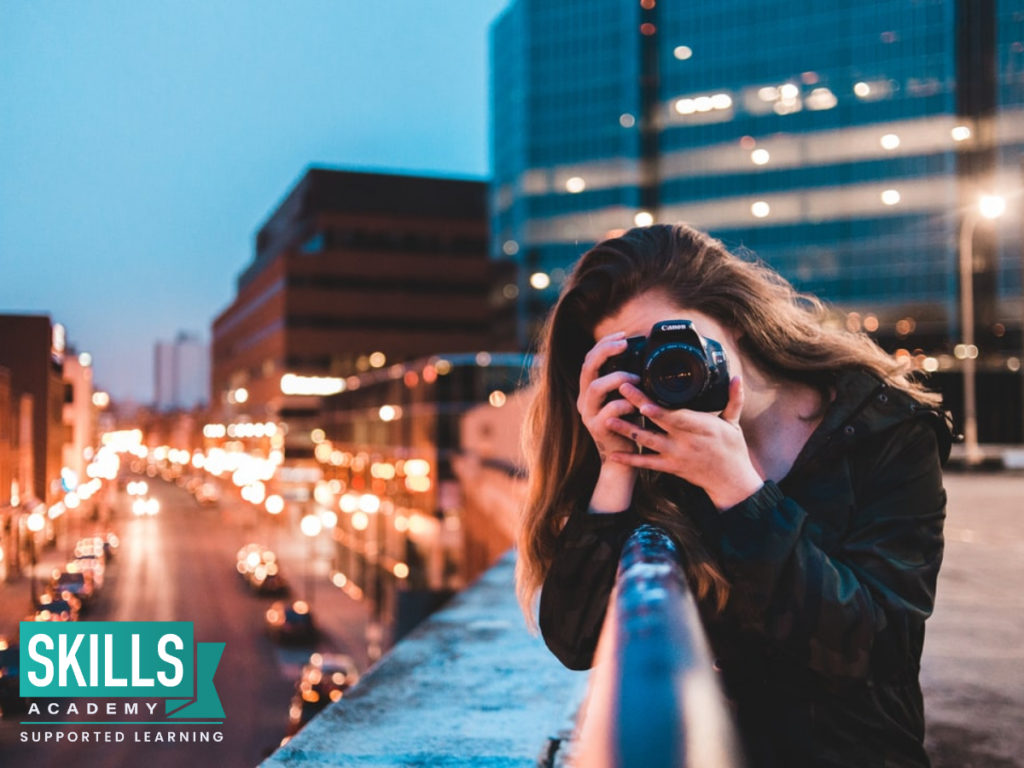 Where can I Study Photography and Design in South Africa?
Deciding where to study is one of the most important decisions you'll have to make for your career. Where you choose to study will depend on what kind of qualification you want. If you want a degree or a diploma, you may look at universities. Want a qualification that will set you up for success within a short period of time? You can enrol for our courses via distance learning.
Distance learning provides you with a lot of flexibility and time to your hands. All your learning is done in the comfort of your home and you set your own study hours. This will allow you time to practice handling your lenses and capturing great moments. Skills Academy is one of the best distance learning colleges you can enrol at. We come loaded with plenty of benefits for you and our first course can be finished in 4 months. Giving you a head start in chasing your dreams!
We offer:
Can I Succeed in Photography and Design Without Matric?
Yes, you can. This is a cutthroat and passion driven profession. It is easy to enrol into. There's absolutely no matric required. All you need is to work tirelessly everyday to get to where you dream of being. With us, there's no need to let lack of matric get in the way.
Get Qualified
The first step to securing your future in Photography and Design is by getting a qualification. You want to be able to showcase your dedication and seriousness about wanting to be in this profession. 
Develop a Portfolio
Once you get your qualification or even during the time you're getting your qualification, keep a portfolio. This makes it easier for you to have proof of your talents. You can add your school projects and your own side projects in it. And make sure that it shows your signature style and stands out from the rest. 
Practice, Practice, Practice
Lastly, you need to constantly take photos, draw, design and decorate. This is a creative job and that requires practice. We all know the old adage, "Practice makes perfect." With photography, design and decorating, it rings truer than you could ever imagine. 
Experience
Another thing that puts your feet forward into this industry is experience. And you show that you have this experience by compiling a portfolio. It'll act as tangible proof that you have what it takes to be an interior decorator, designer or a photographer.
Can I Learn Photography and Design on my Own?
Yes, absolutely you can. With the right equipment and quality research, you can be a self-taught photographer or interior decorator and designer. However, if you want credibility and to be trusted, it's best you get a qualification and here's why:
People generally like hiring someone who has a qualification to back their skills up.
Getting a qualification will also increase your chances of being employed with a steady basic salary. This would otherwise be hard if you were just self taught. 
This demanding and equally rewarding career does not require much of you to be qualified. Most interior decorators only hold certificates and most interior designers have both the certificates and diplomas or degrees
. Careers in Photography and Design
Careers in Photography, Interior design and decorating are rewarding both in creativity and earnings. According to PayScale and Salary Explorer, on average, a decorator can earn about R20 500 a month and a designer can expect to earn up to R33 000 monthly. Photographers earn about R27 000 a month with 1-4 years of experience. 
Careers you can venture into are: 
Photojournalism   
Nature photography 
Fine art photography 
Events photography
Interior Designer
Interior Decorator 
Furniture Designer 
Whether you choose to go with photography or interior design and decorating, with us your future is standing on solid ground. You're bound to excel.
Capture and Design Your way into Success
Why don't you put all that creativity into good use and enrol with us? Our friendly course experts are expecting you. You can contact us by:
Call us for free on 0800 39 00 27
Or fill out this contact form

and we will get back to you
Last Updated: August 12, 2020
Click the button to complete a form and we will contact you to help with any queries you might have